How Can We Help?
0719072600 / 0730642000 ,
Mail: info@posta.co.ke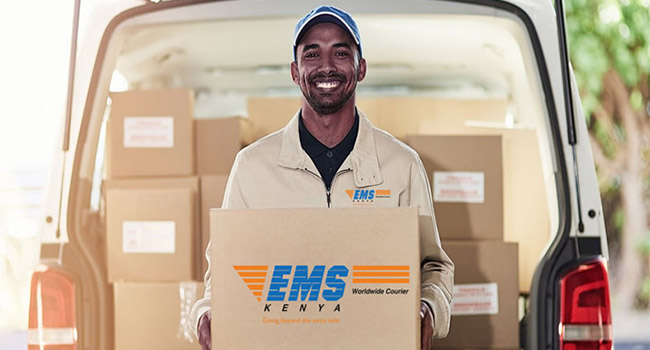 we provide same-day or next-day delivery options for local , regional and international shipments.
EMS (Express Mail Service) is an international and domestic courier service for both documents and parcels offered under the brand name EMS Kenya with service levels that meets international standards in speed, reliability, security, accessibility and at affordable prices.
EMS is offered in more than 3, 000 destinations worldwide and over 285 destinations locally.
Products offered:
            a) EMS International
Items can be sent to over 3,000 destinations worldwide from over 285 acceptance centers countrywide. A track and trace system providing prompt information on delivery and effective monitoring is available for most of the destinations in over 75 countries. EMS Kenya also offers customs clearance services for incoming items that are dutiable.
              b) EMS Domestic
The service covers over 285 principal towns and locations in the country under: – 
EMS "Same Day"
The service is offered within selected urban, town, municipal and city boundaries and their environs (up to a radius of 30km). The items must be posted by 12pm to be delivered on the same day and its maximum acceptable weight is 50kg
EMS Overnight
Items accepted for delivery in any of the destination will be delivered in the shortest time within 24 hours. Maximum acceptable weight is 50kg.
EMS Bulk Rate
This is for bulky shipments that are over 2000kgs per month. There is a flat rate across the board to any destination irrespective of the zone
EMS customized.-This is a specialized EMS service tailored to suit EMS customer's specific needs like moving household goods and from one location to another within the country. The goods are to be delivered to the agreed location within seven days.
Some packages have greater volume than their actual weight. These packages are large and take up space yet they are relatively lightweight. In such cases, as per IATA standards the shipping costs are calculated by the volumetric space they take up. Rates are based on total weight or actual volumetric weight
Posta parcel is an affordable and secure way of sending parcels through the post locally and internationally.  There are two types of parcels:
a) Domestic Parcels
Across the country, with a network of over 400 local  postal outlets, delivery to the designated post office . One can send items up to 50 kgs. For items weighing above 50kgs special arrangements may be made with the Postmaster.
b) International Parcels
Air and surface parcel services are available to practically every country in the world. Air parcels generally take 5 to 13 days, while surface parcels take 1 week  to 3  months  subject to the consolidation period at the port. Surface airlifted (SAL) Parcels are air lifted to their destination countries and delivered as surface parcels upon arrival.
Since all parcels sent overseas need clearance from customs, declaration of contents at the post office is necessary.
Maximum weight of an individual international surface/air parcel varies from country to country but the maximum Universal Postal Union (UPU) weight is 31.5 kgs.
Benefits
Affordable – offers a cost effective alternative for items that are not time sensitive.
Wide network- parcels can be sent to almost any country worldwide and to over 400 postal outlets countrywide.
Track and trace available for international parcels.
Delivered to a post office allowing the customer to collect the item at their own convenience.
Packaging materials available at selected Post offices at an affordable rates
Postal Corporation of Kenya (PCK) offers Clearing and Forwarding services as part of our operations
The Corporation is registered as a clearing agent by Kenya Revenue Authority (KRA) and provides full logistics for customers that import items through Posta Parcel and EMS services.
We now provide the link that enables you to undertake the processing of your items through Customs clearance without having to search for clearance services elsewhere.
PCK handles sea and air cargo clearance of freight for both imports and exports. These include; Full Containers Load (FCL), Less Containers Load (LCL), RORO (Vehicles) and Bulk Cargo.
SERVICES OFFERED
Application of IDF through  Ken trade System for our clients
Processing of Customs entry clearance through Simba System. This facilitates clearance of Parcel post and EMS items, as well as all other categories of imports and exports with the assistance of our well trained staff.
Direct assessment for our customers who hardly find time to come to the Post Office to collect their items thus providing a one -stop shop solution. This not only saves time but also saves the customer from paying unnecessary demurrage (storage) charges as a result of late collection of parcels.
BENEFITS OF USING POSTA CARGO
Efficiency – We understand that your objective is getting the cargo as quickly as possible. PCK is committed to offering a swift service.
Affordability – PCK rates are cost effective which enables the customer to reduce their overheads thus increasing their profit margin and competitiveness.
One-stop shop – One-stop shop for all the customers' Clearing and Forwarding needs
Networking and co-ordination – PCK provides Clearing and Forwarding services both in Nairobi and Mombasa. The Corporation's vast network countrywide guarantees efficient and timely delivery to any part of the country.